Chevy Silverado Chicago
Get The Low-Down On The Chevy Silverado For Chicago Drivers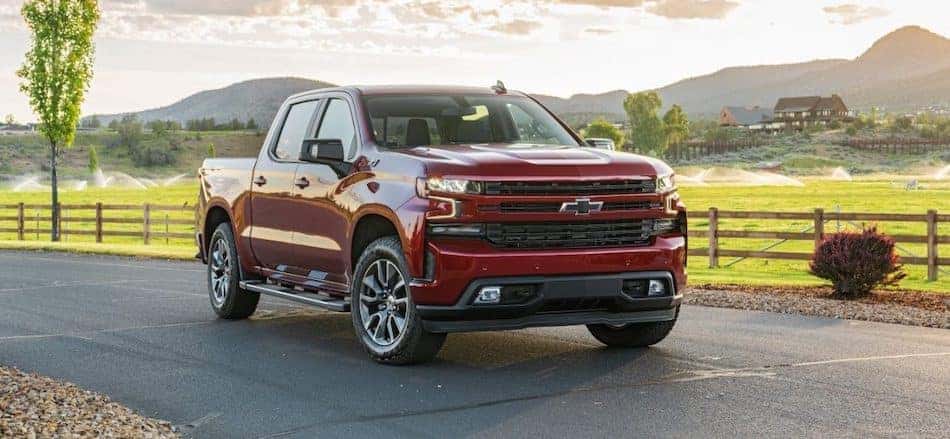 The Chevy Silverado for sale in Chicago is Chevrolet's best offering in the full-size truck market and it's one of the best-selling trucks of all time. Chevrolet is currently selling around 45,000 Silverados a month as people are drawn to the excellent styling, economy, and performance of this full-size truck.
The Silverado range encompasses the 1500, 2500HD, and 3500HD, with most features being shared across these models. The 2500HD and 3500HD are equipped to tow more and hold a heavier payload and as such have a firmer suspension to handle this. 
Most people opt for the lightweight Chevy Silverado 1500. We'll focus on the 2019 model here, but Jerry Haggerty Chevrolet also carries a wide range of pre-owned Chevy Silverados in Chicago and will offer the 2020 Chevy Silverado.
A Modern, Sophisticated Style
Chevrolet keeps getting it right year-on-year. The fourth-generation 2019 Chevy Silverado for sale in Chicago is no exception. It's all-new for 2019, and visually, the Silverado is now a more aggressive beast that mirrors the cool new Camaro style. The rear-wheel arches have been updated, and the abundance of chrome has been replaced with a more minimalist look with dark grilles, narrow lights, and modern lines. Stylistically, it fits between the kooky F-150 and the boring RAM, so we think it's just right.
A Lighter, More Agile Full-Size Truck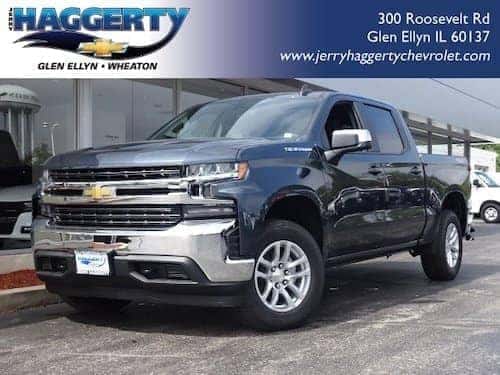 The fourth-generation of Chevy Silverados for sale in Chicago are lighter thanks to a comprehensive lightweighting program that uses mixed metals. Thanks to this, the Silverado feels much more agile than previous generations and its competitors. The ride feels buttery smooth, and the engine is surprisingly quiet.
A Huge Range of Powertrain Options
Multiple engines are available in the 2019 Chevy Silverado. The smallest and most efficient is the 4.3-liter 305-horsepower V6 that's capable of outputting 285 pounds per foot of torque and is paired with a 10-speed automatic.
New for 2019 is a 2.7-liter turbo-4 engine that offers 310 horsepower and 348 pounds per foot of torque. It has a 13% improvement in economy over the V6 it replaces.
Also new, and perhaps the most exciting is the 3.0-liter inline-6 turbodiesel option.
Many of our Chicago customers prefer the growl of a V8, and the Silverado 1500 offers three of them from which to choose. 
There's a 5.3-liter V8 that outputs 355 horsepower and 383 pounds per foot of torque that comes with a 6-speed transmission and an Active Fuel Management system that can shut down half of the cylinders in light-load conditions. 
There's also a version of the 5.3-liter V8 that comes with Dynamic Fuel Management, allowing from one to six cylinders to be shut down automatically.
Finally, there's an even more powerful 6.2-liter V8 that outputs 420 horsepower and 460 pounds per foot of torque.
More Passenger Space, More Cargo Space, More Tech
Inside, the Silverado has also seen substantial improvements to the cabin. There are three more inches of rear legroom, the beds can carry 20% more cargo, and there's plenty of tech like Wi-Fi hotspots and screen sharing. If you've owned a Chevy Silverado before, the layout and feel are the same but you notice the improvements immediately.
Test Drive a Chevy Silverado in Chicago Today
At Jerry Haggerty Chevrolet in Chicago, we offer both the latest new Chevy Silverado and incredible deals of used Chevy Silverados. Consider a certified pre-owned Chevy Silverado – your vehicle will be almost as good as new and you'll have worry-free ownership with two factory-backed warranties.
To organize a test drive of any Chevy Silverado for sale in Chicago at Jerry Haggerty Chevrolet call (800) 419-1487 or drop by our dealership at 300 Roosevelt Road, Glen Ellyn, IL 60137.