Chevy Dealers Chicago
Jerry Haggerty Chevrolet – One of the Chevy Dealers Chicago Deserves

If you're looking for Chevy dealers in Chicago, we here at Jerry Haggerty Chevrolet provide one of the best services you could ask for. When it comes to our business, we don't just treat our staff like family – we treat our customers like family too. Unlike many dealerships, we take a no-fuss approach without any hidden agendas. We're just here to offer you the best deals and services that we can! 
We've been operating for over a decade, welcoming hundreds of people from Chicago through our doors and into new vehicles – it's this trust we've built that has led to our success and popularity. Here are just a few reasons why we take pride in our work, and why the people of Chicago, IL love returning to our dealership and being a part of our family. 
Wide Selection of Vehicles 
Customers enjoy a wide selection of vehicles, and because we know everyone's preferences are different, we stock a huge range of both new and used vehicles so everyone can find something they love. 
At Jerry Haggerty Chevrolet, we offer the newest Chevy models, fresh off the production line. Most Chevy dealers in Chicago are hard-pressed to offer the same level of stock that we give you. Whether you want a brand new Chevrolet Equinox or Cruze, or a powerful Silverado, we have an SUV, car, or truck here for you. 
Our used vehicles are serviced by highly trained professional staff, to make sure that every vehicle we sell is up to our high standards. If they don't pass, they don't go out for sale – simple as that. We offer a regular stream of special offers on our website and in our dealership, meaning you could be finding your desired vehicle for thousands of dollars less than elsewhere, used or new. 
Professional Service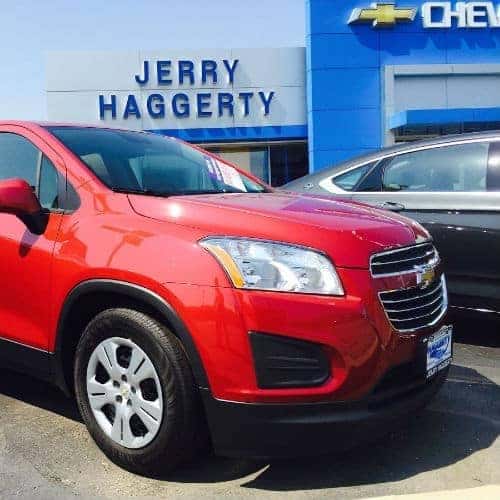 Our service center is operated by certified experts who know your vehicle inside and out. We stock the best parts and best equipment to give vehicles the best treatment because high-quality servicing is something we do best. If you're looking for Chevy dealers in Chicago with an exceptional servicing center for your Chevy, we're one of the best choices. 
Is your vehicle rattling? Is your braking less effective? Does your truck not pull like it used to? Whatever it may be, come on down or phone in to schedule an appointment today. Our Multi-Point Vehicle Inspection will give you a full report of everything that you need to know about the health of your vehicle. 
Outstanding Staff and Service 
Our staff treats customers as they'd want to be treated; like family, friends, and individuals. We recognize most people want something specific, so we never push people into purchasing a vehicle they don't want or isn't right for them just to fetch a sale.
Our financing and leasing options are some of the best among the Chevy dealers Chicago has, so no matter what your financial situation might be we'll be able to work out a payment scheme for you. You can apply online for a no-obligation car loan here at Jerry Haggerty Chevrolet, with any additional financing and calculating done on our website too. 
Most notable is our Zero Money Down Lease. We do away with the nonsense of hidden fees, saving you time and money on your leased vehicles. We'll package your low monthly payments to include all your fees in one go, including sales tax and dealer fees. We're upfront about what we offer, so never be afraid to inquire. 
Customers Love Us! 
Don't just take our word for it, though. Check out our website and online reviews for customer testimonials. If you're looking for Chevy dealers in Chicago, then look no further –browse our offers or find out where to find us on the map.