Chevy Dealer Naperville
Jerry Haggerty – Award-Winning Chevy Dealer Near Naperville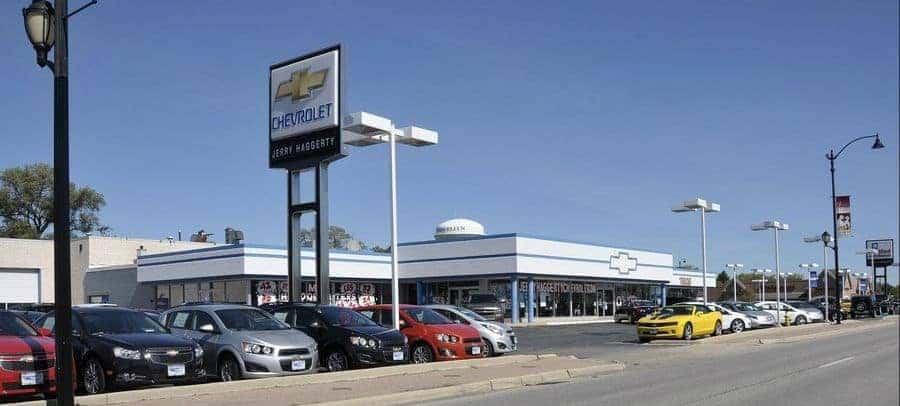 If you are in the market for a new car and need a Chevy dealer near Naperville, come check out Jerry Haggerty Chevrolet. Meet our helpful staff today who are waiting to help you find your next vehicle and finance it with zero-down lease offers. 
Jerry Haggerty Chevrolet is located in Glen Ellyn, Illinois and is a great choice for a Chevy dealer in Naperville. The focus is on the customer at Jerry Haggerty Chevrolet and serving the community is the number one priority. 
Providing new and used vehicles isn't the only thing we do at Jerry Haggerty Chevrolet. We also uphold strong community values by supporting local programs and charities through both Chevrolet's nationwide campaigns and our own local events. 
Beautiful Showroom Offers a Closer Look 
Come enjoy our refreshing air-conditioned showroom where you can see all of the latest Chevrolet vehicles up close. Our dealership offers a wide selection of new and used Chevrolets to choose from. Buyers can lease or finance with us and our helpful staff is experienced but won't pressure you into a decision you aren't ready for. 
Jerry Haggerty Chevrolet prides itself on our customer service and the quality experience our dealership provides every single day. Each vehicle on the showroom floor and on the lot is thoroughly inspected for quality. This is just one of the ways we serve residents of Naperville, IL.
Large New and Used Selection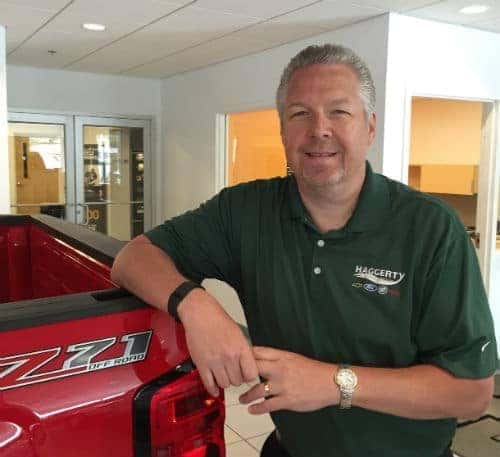 Whether you're in the market for a new car, truck, or SUV, Jerry Haggerty Chevrolet has a wide inventory to choose from. Our goal is to help you find the vehicle that is the best fit for you and by the time you drive off the lot, you will be satisfied that you made the right choice. 
Come test drive any one of our new or used vehicles today and see exactly why Chevrolet is so popular. If you are already a Chevrolet owner, you will be pleased with the selection of new and used vehicles at Jerry Haggerty Chevrolet. Make us your first stop when you need a Chevy dealer in Naperville. 
In-House Service and Maintenance 
At Jerry Haggerty Chevrolet, we understand that vehicles need to be properly maintained; that is why we employ the top auto professionals to provide impeccable service for both repairs and general maintenance. Our mechanics are certified to work on Chevrolet but our service is not limited to Chevrolet models. 
Even if you just need a simple oil change, Jerry Haggerty Chevrolet is here for you. We proudly serve all of Illinois and our business model excels at keeping the vehicle purchasing experience quick, fun, and hassle-free. 
Serving the Community of Naperville
Jerry Haggerty Chevrolet prides itself on the level of customer service we provide but it isn't all about selling vehicles. Jerry Haggerty Chevrolet takes an active role in building the community by being a member of the local chamber of commerce. We proudly support regional charities and youth programs where we invest in building the community for everyone. Young and old alike are welcomed at Jerry Haggerty Chevrolet and whether it is your first car or your fiftieth, our sales advisors will help guide you to the right vehicle. So if if you are looking for a Chevy dealer Naperville, don't hesitate to give us a visit. 
Naperville is a growing city where families are thriving and we are here to provide safe and economic vehicles. We know that getting from appoints to soccer practice or work safely is important. Chevrolet has a reputation for affordable and safe vehicles from sedans, to SUVs and pickup trucks. Here at Jerry Haggerty Chevrolet, we work hard to uphold that reputation. 
We want our customers to be successful and will work with you to find the best financing available. Let us make buying your next vehicle a pleasure so come visit your Chevy dealer in Naperville today.